The Milwaukee Bucks have just won the NBA playoffs, beating the Phoenix Suns in a decisive 4-2 victory. With the playoffs coming to a close, the next major NBA event for those who enjoy online sports betting to look forward to is the upcoming draft! But which players will make the cut? Find out who we think will be your NBA best bets with our early draft predictions for 2021!
The top 10 draft order
In case you missed it, we've listed the first 10 teams and the order that they get to pick in round one of the upcoming NBA draft, set to take place on July 29:
Detroit Pistons
Houston Rockets
Cleveland Cavaliers
Toronto Raptors
Orlando Magic
Oklahoma City Thunder
Golden State Warriors
Orlando Magic (received an additional pick after closing a trade deal with the Chicago Bulls)
Sacramento Kings
New Orleans Pelicans
These 10 are undoubtedly the most important, as they'll get the 10 strongest selections for their teams, or put them in a good position to trade their picks to other squads. If you're interested in basketball betting, keep on reading to find out how the draft might turn out.
Our top 10 best players in the NBA draft
1. Cade Cunningham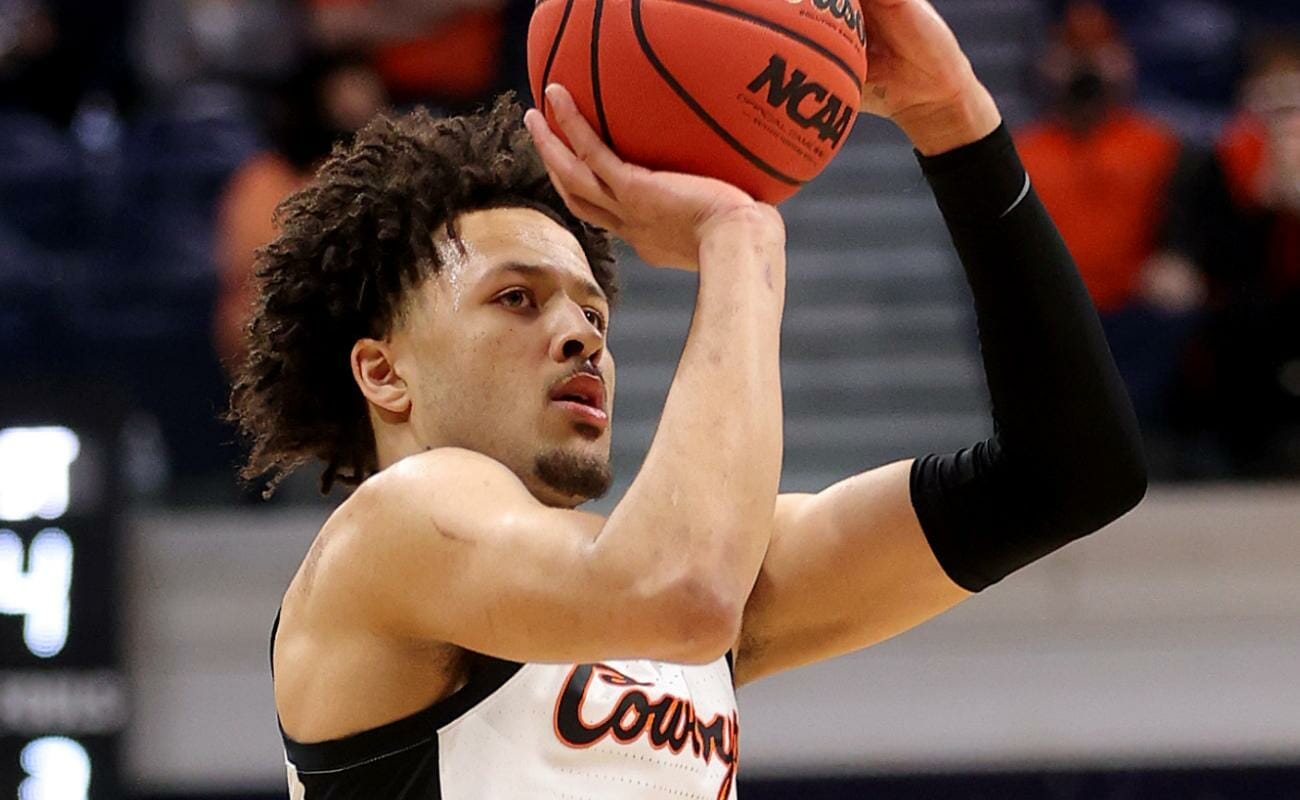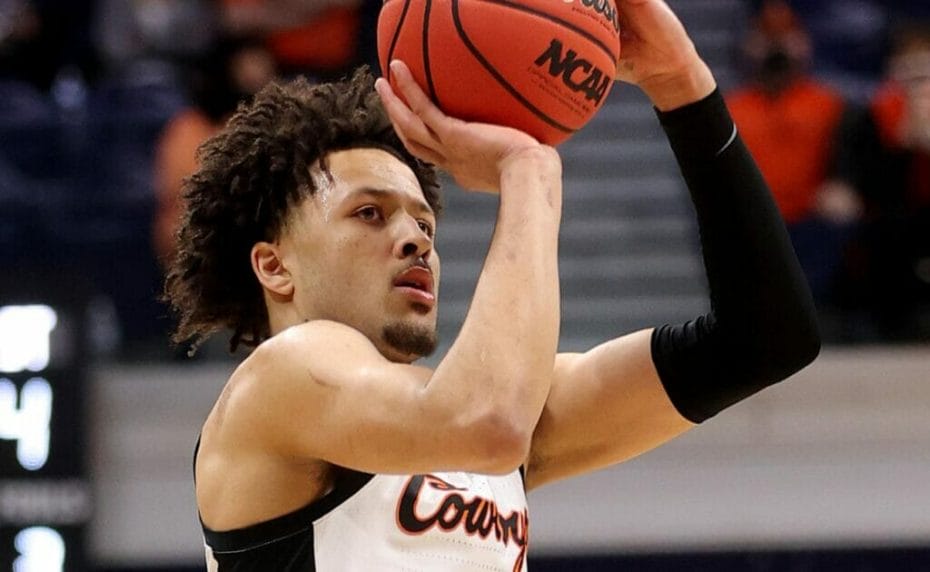 Position: Guard
Height: 6'8"
Weight: 220lbs
Age: 19
Current team: Oklahoma State Cowboys
Projected team: Detroit Pistons
While some commentators believe Cade Cunningham may not be the highest-value player in any particular area, there's little doubt that he's a shoo-in for first pick in the draft. His height, weight, and 7ft wingspan are bound to be welcome additions to any team's defence in the paint, and his increased passing options and ability to get the ball where it needs to go would be welcome on any team. Cunningham's outside shooting, an area he has been criticized for, has improved to a 40% success rate, and while he isn't the fastest player, his sheer strength and long-term potential may help him improve this.
Team selection
Considering the hype around Cunningham, it's virtually a given that the Pistons will use their first pick option to grab him. However, there are some rumors that Detroit will go for Jalen Green, but considering how many teams are interested in Cunningham, it's likely to be pure conjecture. What's more, a tweet from ESPN's Adrian Wojnarowski suggests that Cunningham has a pre-draft meeting with Detroit, which at the very least means he is clear on where he wants to end up. If we were making NBA betting picks, our money would be on Cunningham for the Pistons.
2. Jalen Green
Position: Guard
Height: 6'5"
Weight: 172lbs
Age: 19
Current team: NBA G League Ignite
Projected team: Houston Rockets
In close second on our list comes Jalen Green. While he may not have Cunningham's physical prowess, his performance on the court (which also has him as one of the top picks for Rookie of the Year,) more than makes up for his overall size, which some may see as a disadvantage when compared to some of the taller, beefier players.
However, this hasn't stopped Green from being an excellent scorer and playmaker against other elite players in the G League, with an average of 17.9 points per game. His speed has allowed him to catch many teams off guard, long before they can get in position to mount a suitable defence.
Team selection
Again, Green may be second on many lists due to the presence of Cunningham, but there is still an incredible amount of excitement around this young player's performance and potential. This alone seems to have helped him gain the attention of the Rockets.
3. Evan Mobley
Position: Center
Height: 7'0"
Weight: 215lbs
Age: 20
Current team: USC Trojans
Projected team: Cleveland Cavaliers
While there are some who have shown to have greater potential than Evan Mobley in specific areas of play, their inconsistency allows his general high level of skill across the board to secure him third place on our list.
However, Mobley still has the potential to grow, particularly since he doesn't always appear to pay attention or give it his all on the court. If he can tighten things up in this regard, improve his shooting accuracy (his three-point percentage is seen as a bit lacking at 30%,) and also put on a bit of weight to deal with the other big players on the court, Mobley might just realize his full potential.
Team selection
Many others, including our team, believe that the Cavaliers will look to fill out their interior, after using their last three drafts to strengthen their perimeter.
4. Jalen Suggs
Position: Guard
Height: 6'4"
Weight: 205lbs
Age: 20
Current team: Gonzaga Bulldogs
Projected team: Toronto Raptors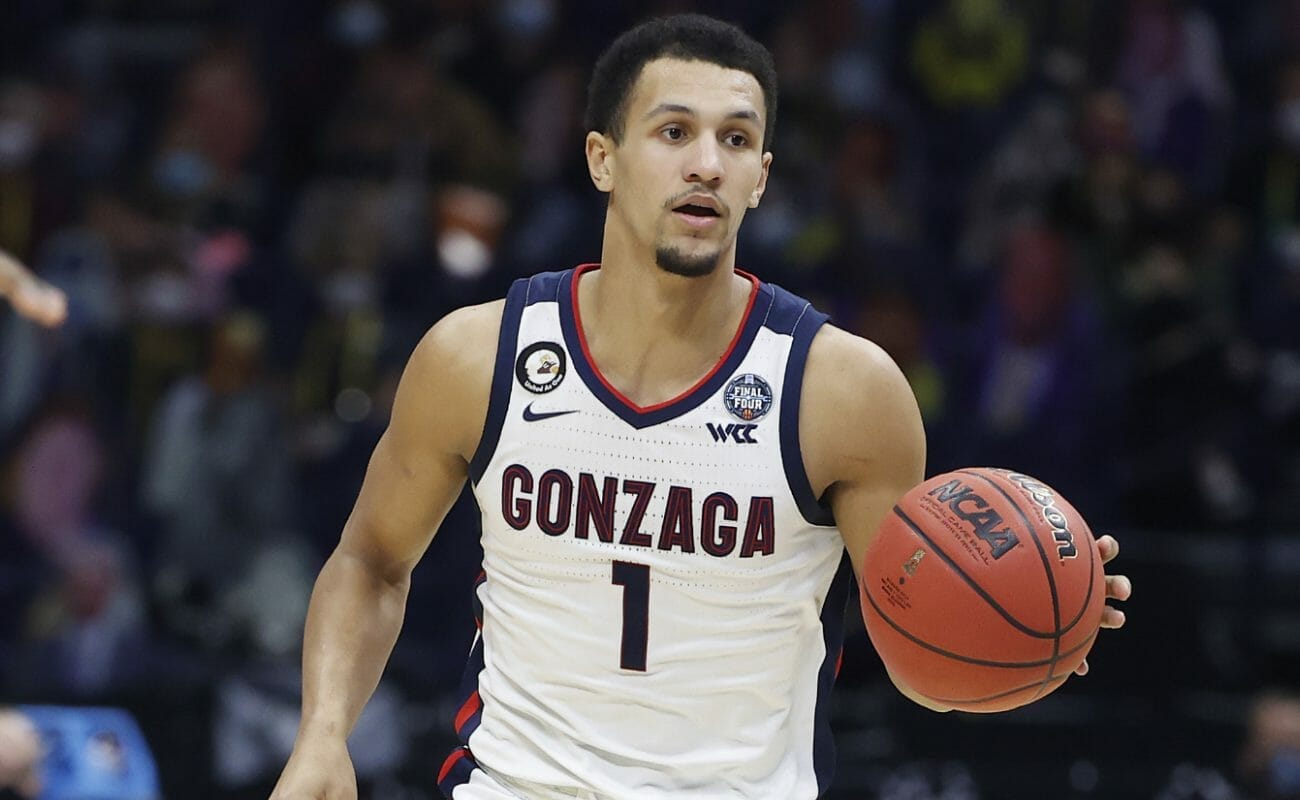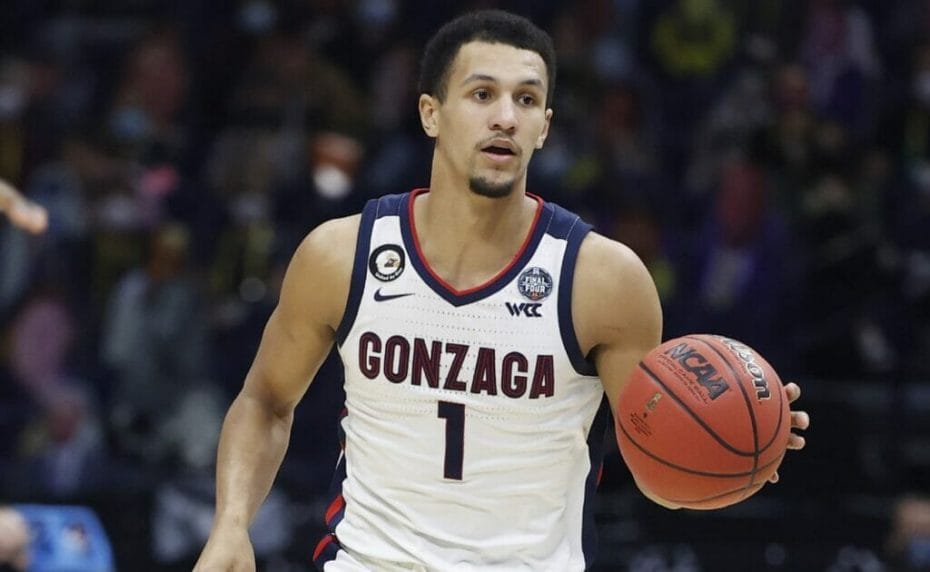 Known for his defensive prowess in the NCAA, and being one of the key elements that helped Gonzaga reach the National Championships, Jalen Suggs is known for taking on a challenge – and not being afraid to get physical when he needs to.
However, he'll need to polish up his shooting, which is reasonably good, but leaves room for improvement. Overall, the weakest areas are his three-point percentage, which sits at just 33.7% across his entire career, and his slightly disappointing performance from the free-throw line, which currently sits at a career total of 76.1%.
Team selection
One cannot ignore the anticipated, if not confirmed, departure of Kyle Lowry, which means Suggs would be an ideal pick for the Toronto Raptors, as his skill set would help fill the gap if Lowry's departure is confirmed.
5. Scottie Barnes
Position: Forward
Height: 6'9"
Weight: 225lbs
Age: 20
Current team: Florida State Seminoles
Projected team: Orlando Magic
Scottie Barnes has great defensive prowess, and his passing and general ball skills make up for his shooting, which definitely needs some work. There's no doubt about it, Barnes is lacking when it comes to sinking shots, with only 27.5% of his three-pointers, 62% of his free throws, and 56% of his two-pointers hitting the mark. However, his powerful weight and surprising speed, combined with his ball-handling abilities, make up for this.
Team selection
The Orlando Magic are in desperate need of a playmaker like Barnes in their rebuild, which should see them pick him up.
6. Jonathan Kuminga
Position: Forward
Height: 6'8"
Weight: 210lbs
Age: 18
Current team: NBA G League Ignite
Projected team: Oklahoma City Thunder
At 6ft 8in and weighing in at 210lbs, Jonathan Kuminga has the body, as well as the speed and ball skills to make his presence felt on the court, particularly on defense. However, while Kuminga has explosive potential, thanks to his height and strength, he lacks the ability to rack up points. This is the main reason why he didn't make it into our top 5 picks. Other sites, analysts and commentators have noted his lack of consistency when it comes to shooting, putting him at just 25% from the three-point line, 46% for two-pointers, and a disappointing 62.5% success rate for his free throws.
Team selection
Despite his poor point scoring, Oklahoma City Thunder are likely to pick Kuminga for his other skills. Given enough time and training, this 18-year-old player could tighten up the weaker parts of his play and unlock his full potential.
7. Moses Moody
Position: Wing
Height: 6'6"
Weight: 205lbs
Age: 19
Current team: Arkansas Razorbacks
Projected team: Golden State Warriors
Any team that needs the skills offered by a 3-and-D prospect can't go wrong with Moses Moody. His excellent 7ft wingspan makes him forbidding on defense, while he's putting up reasonable numbers from the perimeter with a three-point percentage of 36. His free throws are also nothing to sneeze at, with 81% from the free throw line. While Moody may not always be able to make plays and score shots from inside the paint, his skills as a mid-range player help him make it into our top 10.
Team selection
His ability as a wing with decent long-range scoring capabilities, as well as a great defensive skill set (he manages 5.8 rebounds, 1.6 assists, 0.7 blocks, and 1 steal every game), make Moody a valuable asset to any team, even if it's only in a supporting role.
8. Davion Mitchell
Position: Guard
Height: 6'2"
Weight: 205lbs
Age: 22
Current team: Baylor Bears
Projected team: Orlando Magic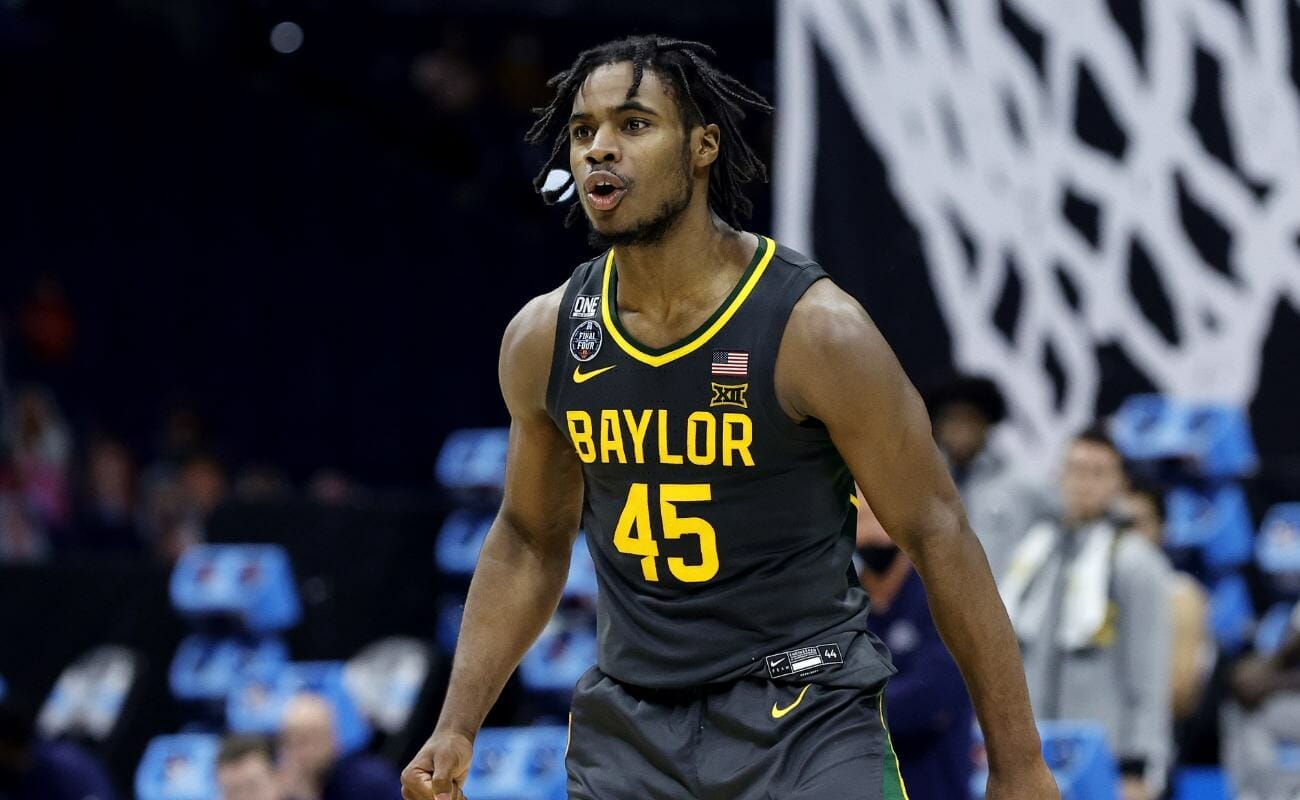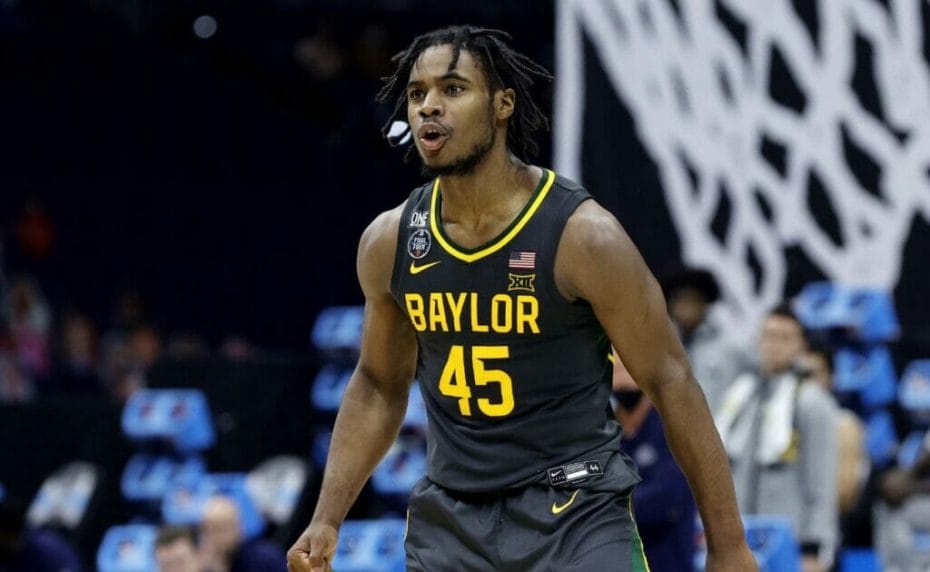 Another player who has some characteristics that could make him a great 3-and-D prospect is Davion Mitchell. In his 2020-21 season, he had landed 44.7% of his shots from the three-point line, secured a reasonable 2.7 rebounds per game, and stole 1.9 balls per game, primarily thanks to his incredible speed. Mitchell also scored 52% of his field goals.
Unfortunately his free throws leave a lot to be desired, with only 64.1% of his penalty shots making it into the net. His age also puts him behind the curve when compared to other players, as he may be seen as "maxed out" physically, and without much room for development in terms of his other skills.
Team selection
While his experience may show that there may not be much untapped potential left in Mitchell, he definitely has the knowledge and skills to hit the ground running. His time on the NCAA court and consistency on defense and from the three-point line might be exactly what the Magic needs to ground their team while they rebuild.
9. James Bouknight
Position: Guard
Height: 6'5"
Weight: 190lbs
Age: 20
Current team: UConn Huskies
Projected team: Sacramento Kings
James Bouknight slips in at number nine due to his ability to score, even if his three-pointers leave a lot to be desired, with his percentage dropping to 29.3% in the 2020-21 season. With 44.7% of his field goals hitting the mark, putting him ahead of the likes of Cunningham, and 18.7 points per game, Bouknight could help bolster the point-scoring capabilities of many teams. His ability to get rebounds at 5.7 per game would make you think he was a taller player, but he's blessed with vertical ability and talent.
Team selection
The Kings are looking for someone who can score points, even if it's from inside the paint or from the free-throw line. Bouknight is a three-level scorer who can do just that, but is there room for him on the already defense-heavy squad? If there are any roster changes, there might be.
10. Corey Kispert
Position: Guard
Height: 6'7"
Weight: 220lbs
Age: 22
Current team: Gonzaga Bulldogs
Projected team: New Orleans Pelicans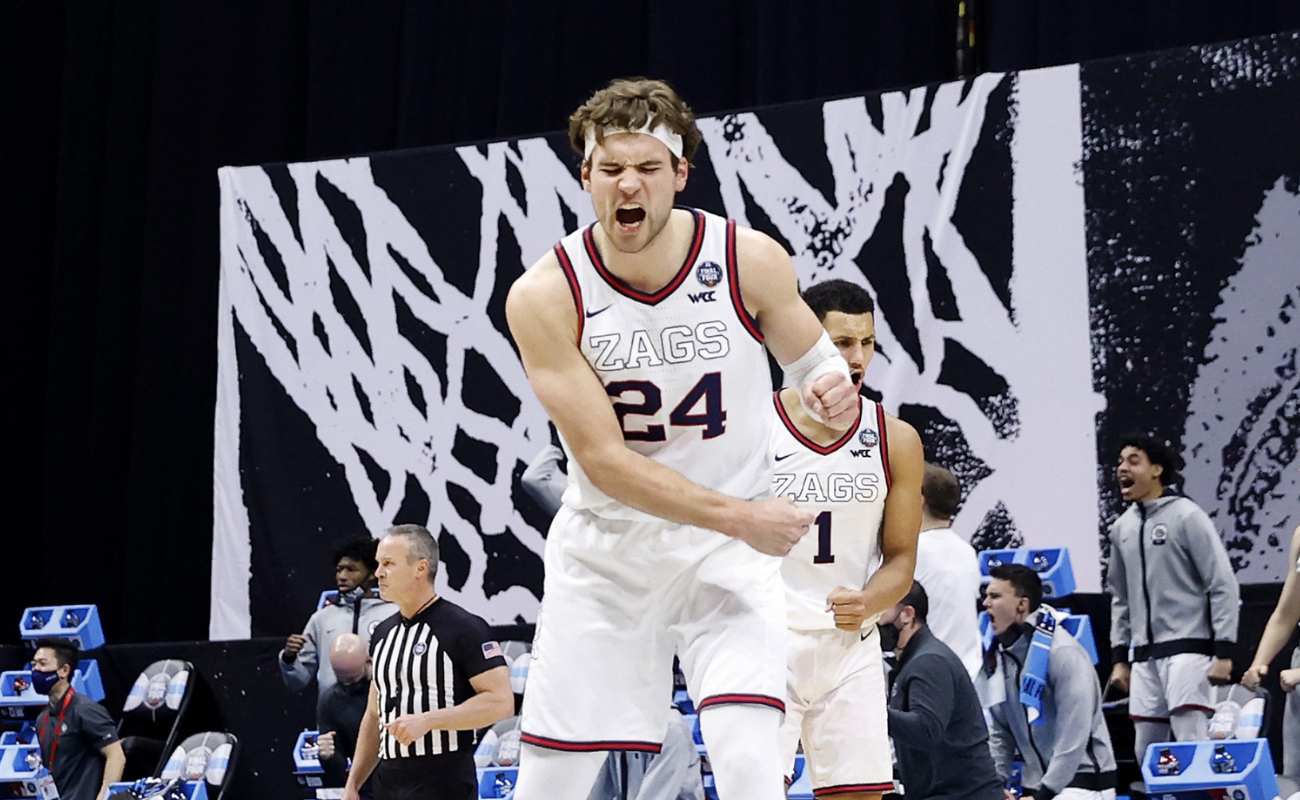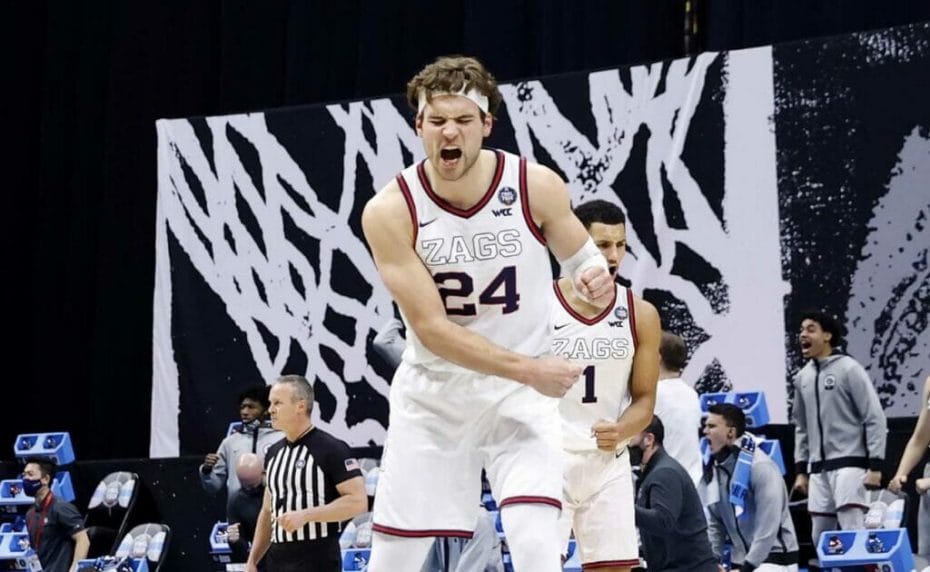 Corey Kispert is another player who's taken the time to hone his skills in the NCAA. Aged 22, he's spent four years playing at college level, and has shown consistent improvements on offense. There's no doubt he's one of the best shooters in the draft, with an overall field-goal percentage of 53. If you break that down further, Kispert's got an impressive two-point percentage of 62, three-point percentage of 44, and is able to land almost 88% of his shots from the free-throw line.
However, as good as Kispert may be at scoring in college-level games, there are some concerns that he might struggle to adjust to a higher level of player, especially since he's already 22.
Team selection
The Pelicans are going to need players like Kispert who can score points to support point guard Zion Williamson, whose potential is going to waste with the current roster.
Get in on the best online basketball betting action!
A lot can happen before the final draft, so it's important to keep your ear to the ground, especially if you're interested in NBA betting. If you're looking for the best NBA betting lines, be sure to check out all the NBA parlay, NBA moneyline and other wagers with fantastic basketball odds at Borgata Online. At our online sportsbook, you can enjoy some of the best NBA odds on every team in the NBA!
To enjoy these great NBA bets and more, register at Borgata Online.