Golf has become one of the most popular online sports betting choices for people around the world. This comes as no surprise given the number of global golf tournaments like the PGA Tour, European Tour, and the Asian Tour providing ample golf betting opportunities throughout the year.
Let's take a look at what makes golf online betting so popular, as well as the glossary of betting terms that you'll need to know if you want to place a successful wager.
Why golf is a great sport to bet on
There are a number of things that make golf the ideal partner for sports betting. These are just a few of the reasons why people choose to bet on it week in and week out:
Year-round tournaments and competitions: As mentioned, there is some form of world-class golf played almost every week of the year. When one competition finishes, another starts, and so on. This presents plenty of betting opportunities for bettors who want to put down wagers on a regular basis.

Different ways to bet: There is a huge array of options for sports betting fans when it comes to betting on golf. From outright winners and matchups to first-round leader bets and everything else in between. Golf simply has a variety of new and exciting bets for every round played.

Potential for wins: Unlike many other sports like football and soccer, there are often unexpected wins. For example, players who win on their debut, veterans who come back after 10 years of no victories, and so on. This makes golf a prime choice for winning money on outside bets that pay well.
Sports betting terms to know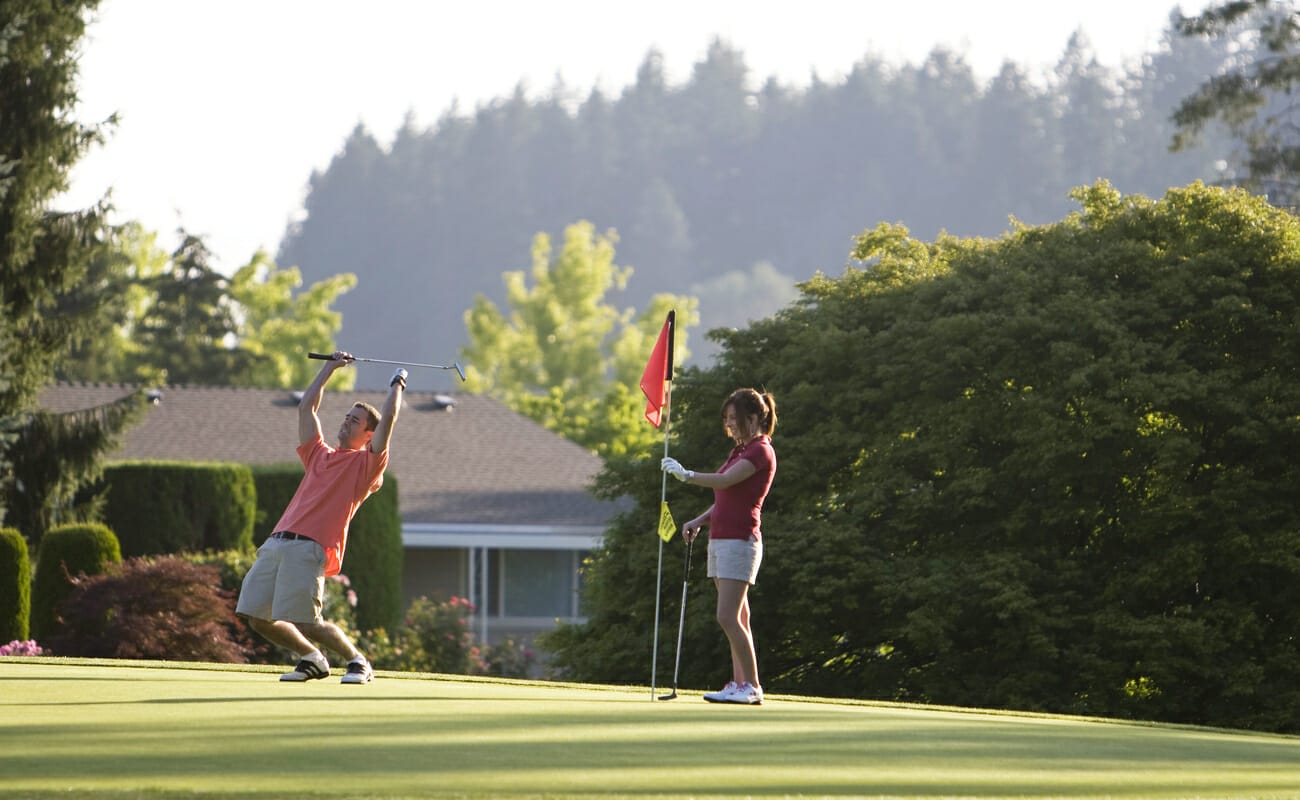 Of course, if you're going to be putting money down on any kind of sports betting, it's essential that you understand the lingo of that particular sport in order to fully grasp the concept. These are the most important terms that you must know when it comes to betting on golf:
Albatross: When a player scored 1 under par.
Accumulator: A combination of three or more bets, although this is relatively rare in golf betting.
Back nine: This is the final nine holes on the golf course. The last three or so holes are often referred to as the stretch.
Birdie: When a player scores a 1 under par.
Bogey: When a player scores a 1 over par.
Cut: Only a certain number of players make it through to the next round of a competition. Each player is given the same number of holes to play and those who fail to come within a specified number, say top 50 or 60, will not continue. They have not made the cut.
Dead heat: This is when there is effectively a tie for one of the bets that you have made. Let's say you bet on Dustin Johnson to come out first-round leader and he ties first with Collin Morikawa, then the winnings will be divided proportionally between the two according to their odds.
Double: When you place two bets on one slip. Both bets have to win in order to be successful.
Double bogey: When a player scores a 2 over par.
Eagle: When a player scores 2 under par.
Field: To bet the field in golf, means that you bet on the players or teams who are not specifically listed. So if you bet the field against Morikawa, Johnson, McIlroy, and Rahm, and Garcia wins, then you'll win the bet.
Front nine: The first nine holes of the golf course.
Four-ball: When there are four players in one group.
Greens in Regulation (GIR): This is when a player hits the green in two strokes less than par for that hole. For example, the course has 18 greens on it; you are expected to hit all par 3s in one shot, par 4s in two shots, and par 5s in three shots.
Hedging: When you hedge your bets, you place a bet on the opposite side to the wager that you have already made. This is usually done to offset losses or guarantee a profit.
Hole in one/Ace: When a player hits the ball straight into the hole with one shot.
Live betting: When you place a bet on golf while the tournament takes place.
Match bets: This is when you place a bet on two golfers going head-to-head. So if you bet on Morikawa to beat Rahm and he does, then you win your bet. This type of bet is not affected by the outcome of the tournament at all, just the place of the two players with regards to each other.
Out of bounds: This is an area on the golf course where players are penalized for hitting their ball into. If the ball goes out of bounds, they will have to take their ball back to where they originally started from.
Outright winner: This is a rather straightforward bet where you put your money on the player you think is going to be the winner of the overall tournament.
Par: The number of shots a player should make on a hole.
Place bets (Top 5, 10, 20, or 30, etc.): This is a type of wager that normally doesn't have the same golf odds of winning an outright bet. However, it is a less risky bet if you have a player, or a few, who you think will perform well but maybe not win. You can pick whether you think this player will finish in the top 5, 10, 20, 30, and so on. Keep in mind that you won't win as much money as you would with an outright winner bet.
Prop bets: Also known as proposition bets, these are miscellaneous bets that can be incredibly random compared to the usual bets. For example, you could bet that there will be a hole in one of hole 4, or that the water hazard will be hit in holes 3, 6, and 8.
Tee: The place from which the first shot of a hole is taken by a player. It can also be called a tee box.
Three-ball: When there are three players in one group.
Top country representative: This is when you can bet on which player will rank first for their specific country. For example, you can bet that Louis Oosthuizen will finish first for South Africa.
Triple bogey: When a player hits 3 over par.
Two-ball: When there are two players in a group.
Get the best sports betting odds with Borgata
At Borgata Online, we have a whole range of sports betting options for you to choose from. Whether you are looking for the best golf odds, football bets, baseball lines and much more, register with Borgata today and place your bets.