Throughout the history of sports betting, there have been some epic wins, with a few lucky gamblers netting significant amounts, sometimes with minuscule stakes. Join us as we take a brief look at the history of sports betting, and count down nine of the biggest sports betting wins that made it onto our list, both from the world of traditional and online sports betting.
A brief history of sports betting
The exact origin of sports betting, just like other types of gambling, remains lost to the mists of time. However, we can state with a reasonable degree of confidence that sports betting in the US likely began with horse racing, which officially endorsed gambling in the early 19th century. This was likely followed by unofficial, but not illegal, gambling on various other sports, including boxing and baseball, during the late 19th and early 20th centuries.
Unfortunately, gambling-related scandals (such as several members of the Black Sox being accused of throwing the World Series) eventually led to the US government taking a hard stance on all forms of gambling in the early 20th century.
Despite this, sports betting would not go away, and over the decades steps have been taken to legalize the pastime. Some states have even had legal sports betting for decades, despite it being illegal in many others. Most recently, the striking down of PASPA has opened the door for many people to enjoy legal sports betting all across the US.
Top sports to bet on
Which sports are the most popular to bet on will undoubtedly vary across the globe, but in the US, it's safe to say that gamblers prefer American sports, including football, basketball, and baseball, and considering its long history with gambling, it's unsurprising that many Americans also enjoy placing a wager on the horses.
As you'll see, many of these popular sports appear on our list of the biggest sports betting wins in history. Let's take a closer look at how much these wagers were worth, and which sports people bet on.
9. $105K – NFL parlay longshot ends in six-figure win
While $105,000 might not sound that impressive to some who enjoy football betting, most people would be happy to take home this six-digit win, especially if they only spent $5 in the first place. That's right! In 2015, one lucky gambler was able to convert a $5 wager into just over $100K with a 15-team NFL parlay. Tayla Polia was able to do this, thanks to overall odds of 20,000-1, a long shot to say the least. Clearly, luck was on her side, as this was only the second bet she'd ever made.
Another lucky gambler almost recreated Polia's success in September 2021 after they made a 14-team NFL parlay wager and also won $105K. The difference? This winner bet $25 on odds of 4,200-1, making their victory a little less impressive than Polia's win just over six years ago. If you've never had sports betting odds explained, this is a good example of how different odds play out for real!
8. $276K – English Premier League underdog wager rewards faithful fan
Mixing things up and going from one type of football to another, this time we're sharing the story of an incredible soccer wager on a game that also made one bettor, and fan, very happy. In 2016, Leicester City were 5,000-1 at the start of the season in the English Premier League, improving to 2,000-1 as the season played out.
Despite being a long shot, these odds were good enough for one dedicated fan to wager £100 on his favorite team. In true underdog fashion, Leicester City surprised everyone and ended up taking home the title with a 10-point lead, after Tottenham Hotspur ended a game 2-2 against Chelsea at Stamford Bridge.
7. $440K – NFL Super Bowl surprise for Phil Mickelson
Professional golfer Phil Mickelson is undoubtedly a household name, having won 45 events on the PGA Tour, as well as other golfing titles. However, that's not the reason he's on this list.
Back in the 2000/01 NFL season, Mickelson made a wager that the Baltimore Ravens would take home the Super Bowl. At 22-1 odds at the beginning of the season, it's safe to say the Ravens weren't exactly the favorite to raise the Vince Lombardi Trophy. However, this didn't stop Mickelson from putting $20K down for his wager. By the time the Super Bowl was over, the Ravens were the champions, and Mickelson was $440K richer for it.
6. $800K – 19-team accumulator soccer wager that was almost impossible
Could you imagine predicting 19 wins accurately in professional soccer? Not many people can, but one anonymous gambler had very little to lose (just €1) when he placed a wager on the outcomes of 19 soccer matches.
Even though things looked as though they weren't going his way during the final game, it turns out the bettor had a bit of luck on their side, as Liverpool managed to score a goal in the final minutes of the match to give the team the edge over Chelsea. When all was said and done, the bettor had managed to accurately predict the results and was paid out according to 683,738-1 odds, turning his €1 wager into €683,738, or roughly $800K.
5. $1.1 million – Owner bets on his own horse
While many sports prevent people from wagering on themselves or their teams, it's not illegal to place certain bets on your own horse in horse racing, a fact that made Mike Futter $1.1 million richer. Futter's horse, Monty's Pass, became an "Irish national hero" when it won the Aintree Grand National in 2003. The horse had long odds to win, but that didn't stop Futter from putting his faith (and money) on him. The Irish Times reported in its article "Monty's Pass gets hero's welcome" how Futter landed his big win by placing multiple wagers when the horse had odds of 66-1, 50-1 and 40-1. It was undoubtedly a risk for the owner, but one that definitely paid off in the end!
4. $1.2 million – Surprise win on a downtrodden Tiger
While a golf betting wager on Tiger Woods would have been a sure thing during the peak of his career, the same could not be said for any bet on Woods in 2019. While still a great golfer, his performance wasn't quite living up to the incredible standard he set during the early years of his career.
However, despite not winning a major event in more than 11 years, this didn't stop one gambler from taking an $85,000 gamble on Woods to win the Masters in 2019. With odds of 14-1 at the time the wager was made, this was a gamble which clearly paid off, as Woods walked away from the event with the winner's green jacket.
3. $2.07 million – Stars aligned for a casual horse bettor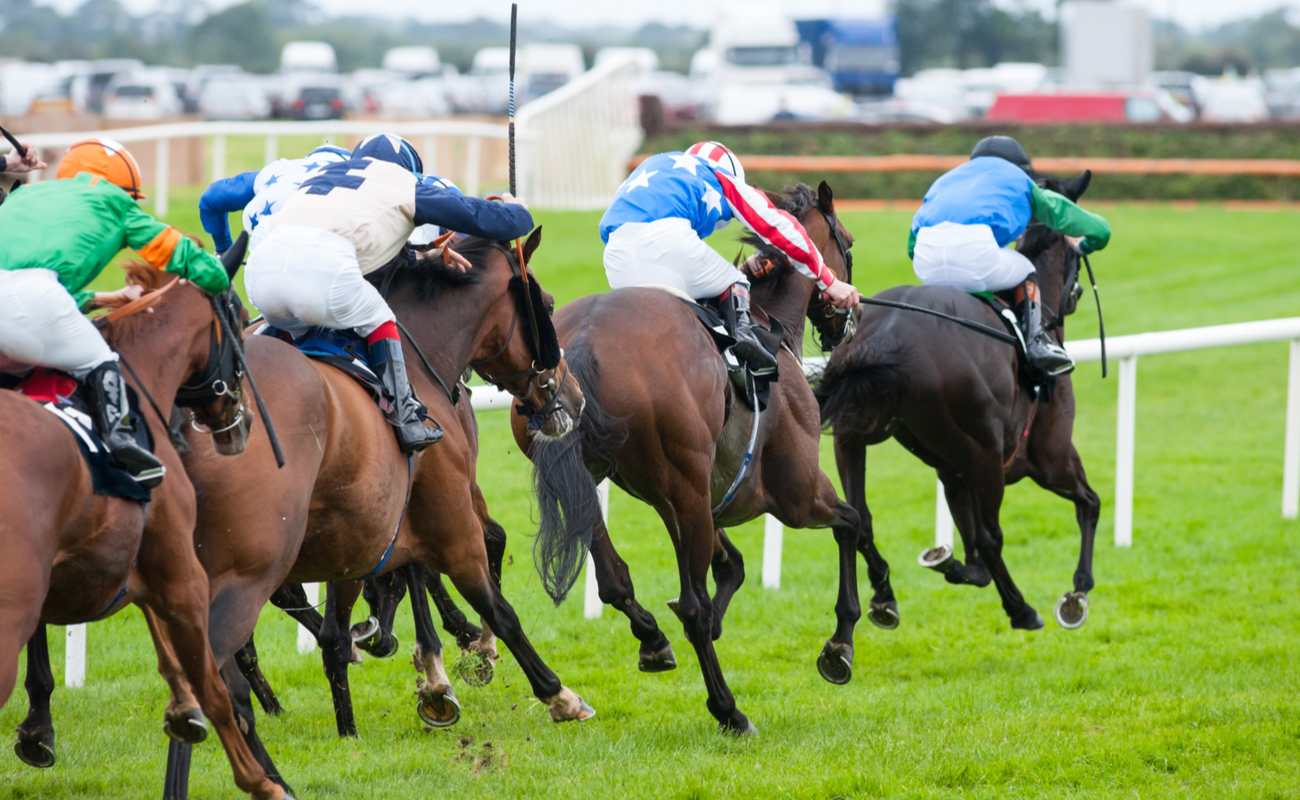 Steve Whiteley's life was changed forever by a free entry ticket and a £2 bet on the horses that turned him into a millionaire. The engineer was 61 years old in 2011 when he made a pari-mutuel bet called the Jackpot and correctly predicted all six winners. What makes this story even more amazing is that he had originally made two selections for each race winner but couldn't afford the ticket, so was forced to whittle down his selection. With no-one else matching his picks, Whiteley left the races £1.5 million richer for his incredible selections.
2. $2.5 million – Professional gambler makes a winning wager based on performance, not odds
You don't have to be a baseball betting fan to want to walk away from a game with a cool $2.5 million, which is exactly what happened for professional gambler Dave Oancea. At the start of the season, the Kansas City Royals had 30-1 odds to win the World Series. Speaking to MEL Magazine, Oancea described how he thought it made absolutely no sense that the team that had performed so well the previous year and had such a great start to the season, was given such long odds.
Relying on gut feeling – and his having accurately predicted five World Series winners – Oancea decided to go against the grain and put down a rather healthy $100,000 in futures wagers on the team at multiple casinos. By the end of the World Series in 2015, he was $2.5 million richer for his efforts.
1. Unknown – Billy Walters places $3.5 million on New Orleans to take 2010 Super Bowl
Entrepreneur, philanthropist and professional gambler Billy Walters is believed to be one of the best sports bettors in the world. A win rate of 57% might not seem great, but to anyone who gambles, winning more than you lose is undoubtedly an incredible accomplishment.
Backed by this extraordinary gambling experience, Walters placed an eye-watering $3.5 million bet on the New Orleans Saints to take the 2010 Super Bowl, despite the fact that they had not been performing as expected. However, Walter's knowledge of the team, and undoubtedly a bit of luck, meant he would not be stinging from a $3.5 million loss come the end of the game. While many have speculated how much he won, his winnings from this wager are unknown. Needless to say, it's more than the $3.5 million he put down, which is why it makes the number one spot on our list!
Could you make sports betting history with Borgata Online?
While it's undoubtedly exciting to read about these great sports betting wins, it could be you who gets lucky the next time you bet on sports at Borgata Online. At our online sportsbook, we offer some of the best sports betting odds you can find on the internet across a variety of sports including basketball, boxing, football, golf and more.
Register at Borgata Online to join in the action!