The English Premier League is undoubtedly the most popular soccer league in the world, with players from around the globe making the move to the Premier League to compete at the highest level.
It's not just the world's best players that have created their superstar status in the UK, however. This is a league that has also produced some of the best managers in soccer throughout the history of the game.
The age of Premier League managers like Arsene Wenger, Sir Alex Ferguson, Kenny Daglish, and Rafael Benitez might be over in the EPL, but which new managers are taking over from the legends?
Knowing which managers are on the way up is vital in EPL betting, as it affects how the team will perform week in and week out. Here's our list of the top Premier League managers for the 2020/2021 season from those that are on the cusp of being great, to the truly elite.
Who are the top managers in the Premier League?
With 20 teams vying for points in the Premier League, it has become the most competitive league in world soccer. There often isn't all that much to separate the middle table teams and the battle for the top four Champions League spots has been absolutely jam-packed after the last couple of seasons, often coming down to the last day.
A truly great manager can get the team working together like a well-oiled machine and recruits excellent players within their budget, which varies greatly from club to club.
On the cusp of greatness
Last season we saw a host of new managers come in and some old faces continue to impress, but there is some way to go before they can be considered elite managers.
Ole Gunnar Solskjær
Solskjær is genuinely in a conundrum at Manchester United. On the one hand, he managed to get United to finish third last season and has turned academy graduates like Greenwood and Rashford into stars. He has also brought in excellent signings like Fernandes, van de Beek, Wan Bissaka, and Maguire and when his team plays well, they are unstoppable. We saw a prime example of this when they swept aside RB Leipzig in the Champions League 5-0. Their domestic form, however, is leaving a lot to be desired and United have had their worst start to an EPL season since 1972.
If Solskjær can get this team firing on all cylinders and climb up the league, then he could become not just one of United's best players of all time, but the manager they needed to lift them back up to heights of the Fergie era. At the moment, he is on a fine line between becoming a legend and getting the sack. The next couple of games at Old Trafford will surely give us our answer.
Frank Lampard
Frank Lampard is another much-loved player turned manager and he is lucky that Chelsea were able to spend big in the transfer window bringing in players like Werner, Ziyech, and Havertz.
In his first season in charge, he managed to get a team that had a transfer ban and who had lost their star player in Eden Hazard, to finish within Champions League places. He is able to get the best out of his young squad and with the addition of the new players this season, many are expecting the high-quality, attacking soccer that Chelsea has been missing for a good couple of years.
Mikel Arteta
Our third player-turned-manager comes in the form of Mikel Arteta and the broody Spaniard seems to be getting the job done. Astute recruitment of Thomas Partey and Willian have filled in the gaps that Arsenal were desperately in need of and he seems to have found the right tactics for the team to go further this season.
Having been Pep Guardiola's right-hand man, it's natural to expect Arteta to put out a tactically-sound, exciting first XI and Arsenal seem to be improving every game. After Arsene Wenger left, Arsenal was lacking in identity and drive and Arteta has brought that back to the club and is sure to delight many Gunners fans if they continue to play in this fashion.
Nuno Espírito Santo
It's incredulous that Nuno hasn't actually been snapped up by an elite club by now. The man is a genius and he is able to work with a much more limited budget than many of the other players on this list.
He inherited a struggling Wolverhampton Wanderers team playing in the Championship and got them promoted to the Premier League at the end of the season. Most expected the Wolves to struggle somewhat on the big stage, but Nuno managed to get them into the Europa League for both of the next seasons — their first taste of European competitions. With players like Raul Jiminez and Adama Traore in the team, he has managed to bring Wolves from a mid-table team to a team that the 'big six' genuinely fear facing.
Elite
Next up, we have a couple of managers that have shown that they are made of the right stuff to take a club all the way to the top! Many have managed different clubs in the Premier League before and are looking to bring their new team up to their lofty standards.
José Mourinho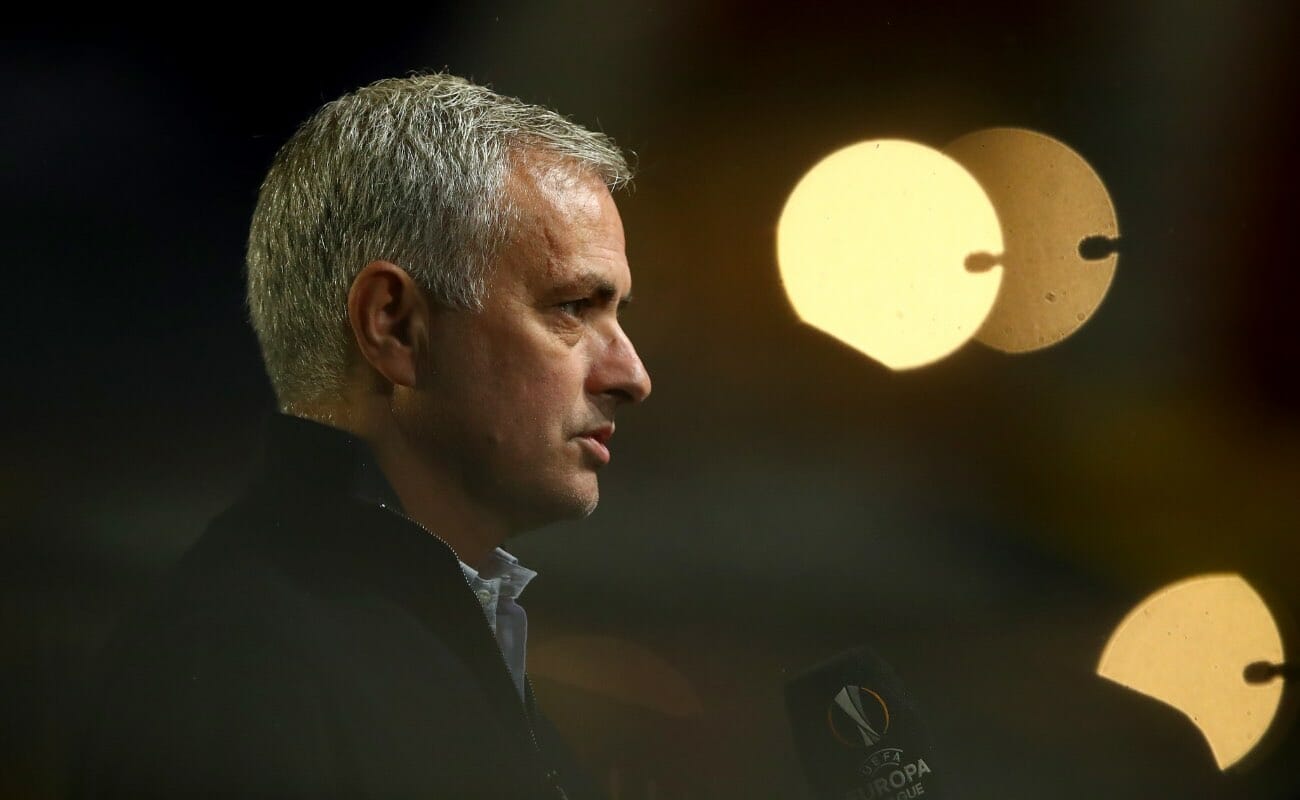 Mourinho is probably the least liked manager in the Premier League. He is often belligerent and he is known to get into some pretty public fallouts with his players. At the moment it seems like Dele Alli is one of those players. However, there is absolutely no denying the results that he has produced all over the soccer world.
He has won trophies with Chelsea, Manchester United, Porto, Inter, and Real Madrid. The way his current crop of stars are playing for Spurs seems to suggest that his trophy-winning ways in his second season might just continue. His team is just devastating at the moment. Love him or hate him, Mourinho has the CV and the trophy cabinet to back up his pedigree.
Brendan Rogers
Brendan Rogers was a popular figure when he was in charge at Anfield, but at the end of the day, he was moved on from Liverpool and it seems that he has found his spot with the Foxes. Leicester City was always going to struggle to keep up the pace after the year that they miraculously won the league.
Rogers certainly seems like the man that they need to get them into the top four consistently though. Although they slipped up last season and didn't finish within the Champions League places, this was more due to a resurgent Manchester United than anything else. Rogers has assembled a team of blistering talent and his management is renowned. It's going to be exciting to see how far he can take the Leicester team this season.
Marcelo Bielsa
It might surprise some to find Bielsa in a pack of some of the most established managers in the league, but what he has done with Leeds is simply astounding. Bielsa inherited a squad that was struggling in the second tier and after two seasons of absolutely thrilling soccer, he got them promoted to the Premier League for the first time in 16 years.
This in itself was a feat, however, Leeds have come into the league and played attractive, attacking football that surprised many of the biggest clubs. Their opening game was a daunting match with league champions Liverpool, yet they only lost 4-3 due to a Salah penalty. They have taken their game to every one of their matches and now the results are starting to show. EPL teams know that the Whites are going to be a fight to beat in every single one of their games.
Carlo Ancelloti
They don't come a lot more polished in a managerial sense than Ancelotti. The Italian has seen it all and won it all. From the Premier League and FA Cup with Chelsea, to Ligue 1 with PSG, the Bundesliga with Bayern, the Champions League (twice), the Serie A with Milan, and the Champions League with Real Madrid — now that's an impressive CV.
Ancelloti is well-liked and astute with his formation and team selections. Currently in his second season in charge of Everton, he managed to get coveted James Rodriguez to come over to Goodison Park and if this season's results are anything to go by, Everton are going to score goals aplenty and are going to be a tough team to beat.
World Class
The best managers in the world didn't get here by chance: They are astute tacticians that know how to manage their team in the best way to get the win, whilst recruiting smartly on the side to keep building up the depth in their squads. Constantly tinkering and changing things for the better and having excellent player relationships, these are our top two Premier League Managers for the 2020/21 season.
Pep Guardiola
Pep Guardiola is simply a manager that is in a league of his own. At 37, he was the youngest ever manager to lift the Champions League trophy, which he did in the same year as winning the La Liga and the Copa del Rey with Barcelona. He spent four seasons as the manager of the Spanish giants, in which time he won 14 trophies.
He then went on to guide Bayern to three Bundesliga trophies in consecutive seasons. Onto the Citizens and he managed to clinch two consecutive Premier League titles for Manchester City in a row, winning numerous cup competitions along the way.
Although they were far behind Liverpool last season, Guardiola has invested heavily in improving his squad and they are starting to turn into the ruthless attacking and pressing team that we have learned to expect from City. We are sure there are plenty more trophies coming Guardiola's way.
Jürgen Klopp
Even if Klopp didn't have the resume that he does behind him, what he has done in his five years at Liverpool is almost enough to get him onto this list alone. Although he won two consecutive Bundesliga titles with Borussia Dortmund, it's at Anfield that he has really thrived.
Liverpool had not won the league in 30 years before Klopp stepped in and, although it took some time, they finally clinched the top spot last season, not to mention the Champions League trophy the year before. Last season they took the title with 99 points on the board, with seven matches to spare, and an unbeaten home record of 3 years.
It feels as if Klopp's time at Liverpool is just beginning and the recent acquisition of Thiago Alcantara from Bayern signals his intent for improvement. It's going to be incredibly exciting to watch just how high Jürgen Klopp's star is going to rise in the coming seasons.
Soccer betting with Borgata Online
If you're looking for a sportsbook casino with impressive online sports betting options and odds, then you've come to the right place. At Borgata Online, we have the best selection of Premier League betting and other soccer leagues, such as title winners, Premier League top scorers, over/unders, outrights, props, and more. Register with Borgata Online for a premium sports betting experience.