As is the case with most modern sports, swimming was born out of necessity. Humans' ability to run, throw, jump over obstacles and move through water was a part of everyday survival. We can't say for sure at what point swimming became a sport (although we'll explore some of the earliest accounts of aquatic competition,) but the story of swimming is a fascinating one. Take a look at our timeline for a history of swimming as a sport and a better understanding of how staying afloat turned into one of the most popular online sports betting lines.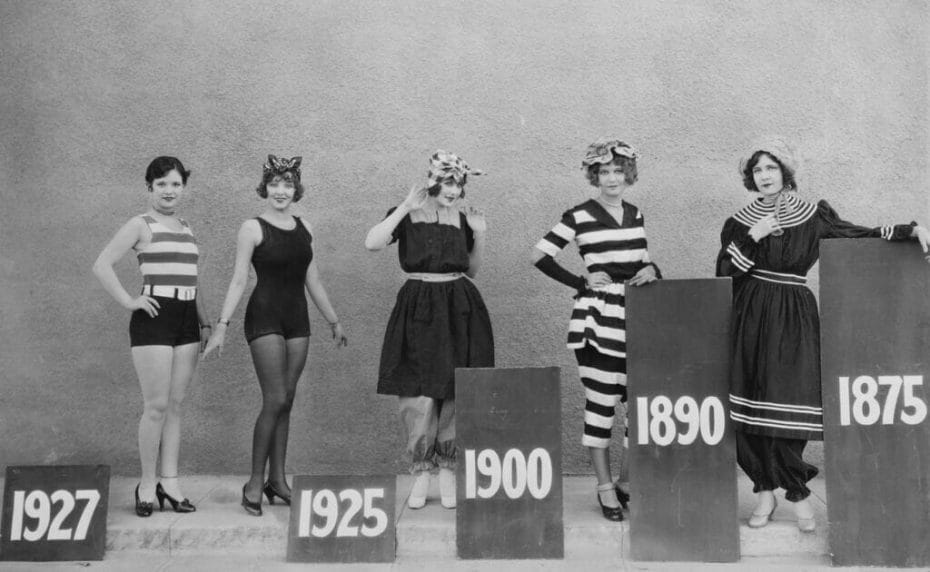 Ancient times: 9000-4000BC
Our history of swimming starts with the earliest depiction of swimmers that we know of – a rock painting on a clay seal discovered in what is now called the "Cave of Swimmers" near Wadi Sura in southwestern Egypt. The paintings show humans swimming the front crawl. In addition, wall drawings of people swimming breaststroke or doggy paddle have been found in what was Ancient Babylon and Assyria (now Iraq and Turkey respectively.) Drawings, paintings and mosaics from later periods have also been found throughout the Middle East.
The oldest existing swimming pools can be found in the Mohenjo Daro palace in Pakistan (a 12m by 7m pool dating back to 2800BC) and the Minoan palace of Knossos in Crete.
The Early Modern Era: 1500-1800
People's desire to conquer the element of water has been around for as long as our desire to fly. Leonardo da Vinci's sketches of men swimming with the aid of lifebelts still exist. And in 1538, Everard Digby, a Senior Fellow at England's University of Cambridge, wrote a book suggesting that science would eventually allow men to swim better than fish – something Michael Phelps fans would agree with! Over a century later, the French author Melchisédech Thévenot wrote The Art of Swimming in 1696, which became the standard for swimming until German teacher, Johann GutsMuths authored Exercise for Youth in 1793, which suggested a three-step approach to learning to swim that's still used today.
The Gilded Age: 1870s-1900
While there are some accounts of people swimming at seashore resorts in Great Britain in the late 1600s (usually as a type of water therapy,) it wasn't until the 1800s that swimming became a popular recreational activity, and then a sport.
The National Swimming Society was launched in England in 1837 with the purpose of holding competitions at London's six indoor pools, but the world's first annual swimming championship only took place another nine years later, in Australia.
While small groups and individuals had been encouraging swimming initiatives for some time – including Nancy Edberg, who had been giving swimming lessons in Stockholm since 1847 and was a pioneer of promoting the sport among women – it was the Metropolitan Swimming Clubs of London in the 1870s that inspired many European nations to form their own national swimming federations between 1882 and 1889.
In the USA, the Amateur Athletic Union was founded in 1888, and the organization started to promote swimming nationally as a sport. In 1909, the Fédération Internationale de Natation Amateur body, which oversaw international swimming competitions, was established.
The competitive dawn: 1896
No initiative has raised the profile of swimming internationally more than the Olympic Games. The history of swimming at the Olympic Games began when the first modern games were held in Athens, Greece in 1896. The code is one of only four sports to have featured at every Games since then (the others are athletics, fencing and artistic gymnastics.)
At first, only men were allowed to compete, and far from the ordered business of today's swimming meets, event formats could be quite unorthodox. For example, one Olympic swimming event required entrants to complete a 200m obstacle course on France's Seine River in 1900, which included clambering over a pole-like obstacle and swimming under a line of boats! Participants were also allowed to swim using any method of their choosing so long as they were unaided, but by the 1970s, the variety of permitted strokes had been reduced to butterfly, breaststroke, backstroke and freestyle (crawl.)
Women's swimming events were eventually added to the Olympic schedule, but not until the 1912 Stockholm Games.
These days, swimming events at the Summer Olympic Games all take place in 50m pools. Both men and women compete in 17 events each that comprise 14 individual races and three relays, plus there's an additional mixed relay. These events include:
Freestyle races of 50m, 100m, 200m, 400m, 800m and 1,500m
Backstroke, breaststroke and butterfly races at 100m and 200m
Individual medley races (combining the swimming styles) at 200m and 400m
Freestyle relays of 4×100m and 4×200m
The medley relay of 4×100m.
3 of the greatest moments in swimming history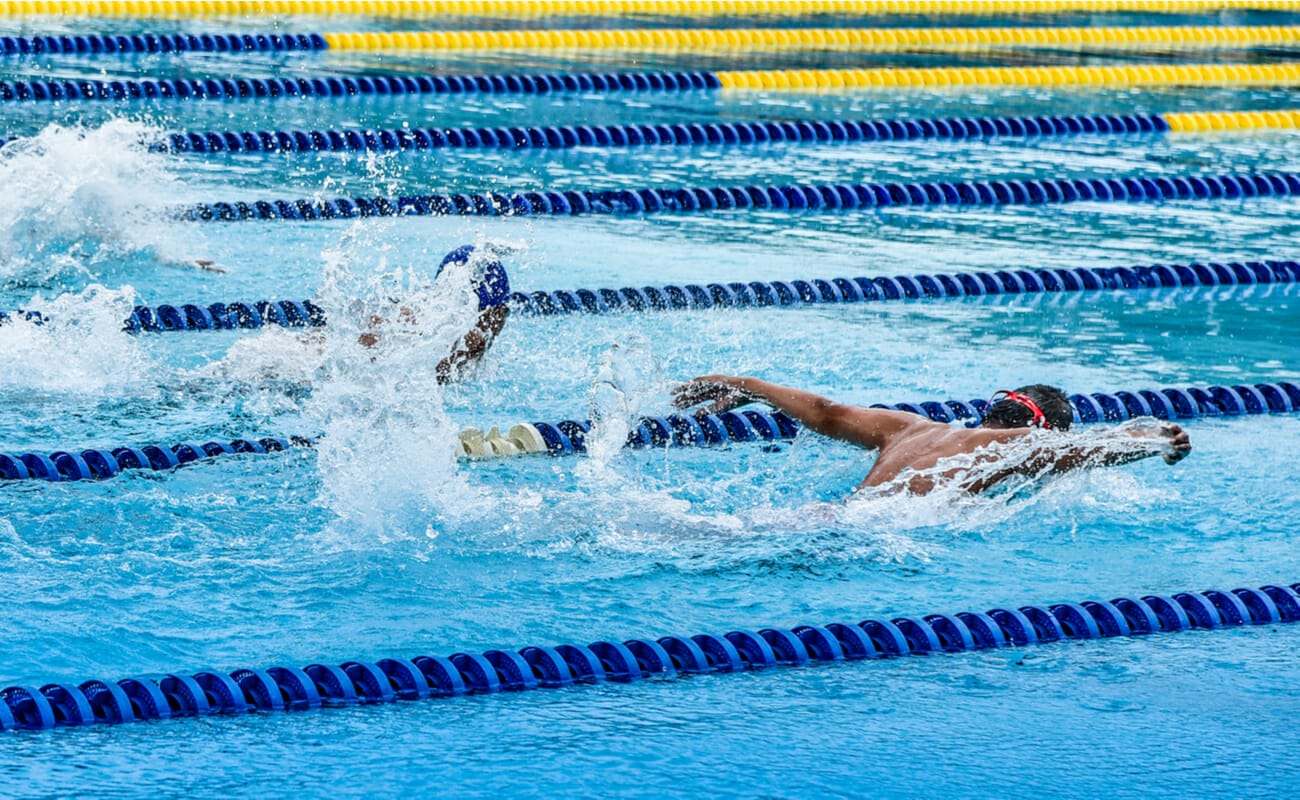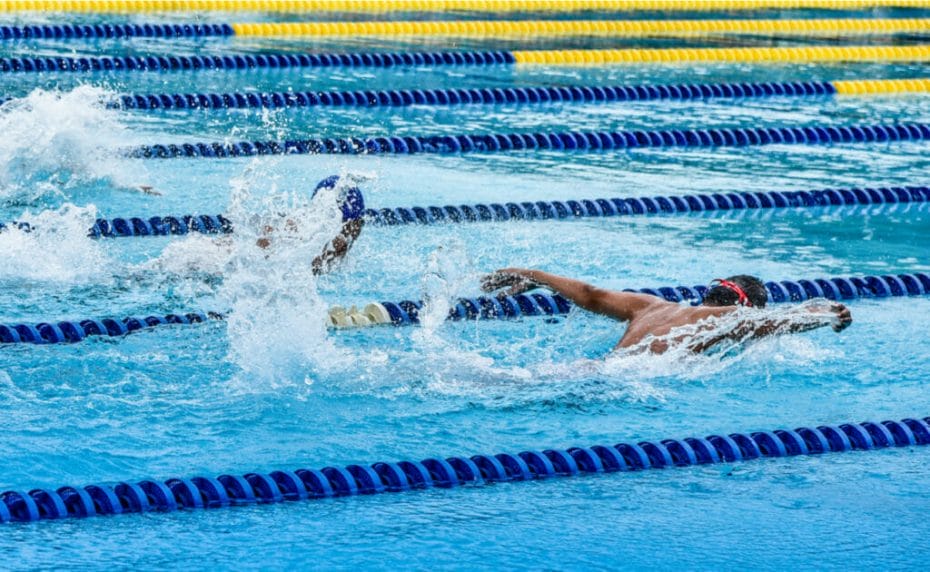 While there have been dozens of scintillating moments in the past 100 years in swimming, these are three of our favorites.
1924 and 1928: Johnny Weissmuller won three gold medals at the 1924 Paris Olympics, then in 1928 won another two golds at the Amsterdam Olympics. By age 25, he'd set 67 world records. Weissmuller moved to Hollywood in 1929 and became most famous for acting in the 1932 movie Tarzan the Ape Man.
1972: Californian Mark Spitz entered seven Olympic events and stated that he intended to win gold in all of them. Interestingly, the year before, Congress had reduced the tax on all sports bets from 10% to 2%, which set in motion a rebirth of legal sports betting in Las Vegas, and while no doubt many did not believe that the swimmer was capable of pulling off seven golds, as he continued to win event after event in Munich, the odds soon turned in his favor. Spitz not only won gold in all his events, but he and his American teammates also set seven world records. (If you'd like to know more about swimming betting, read our blog: Explaining Different Types of Sports Bets. It includes advice on different types of bets and how to bet on sports.)
2008: Team USA won the Men's 4x100m freestyle relay for the first time in 12 years at the Beijing Olympics in a race that turned out to be one of the biggest highlights of swimming history. While the French team were the online betting favorites to take gold, Team USA, which comprised Michael Phelps, Jason Lezak, Cullen Jones and Garrett Weber-Gale, came from 0.6 of a second behind the French in the last 50m to win the race. Phelps went on to make history as the only person to ever win eight gold medals at one Olympic Games.
Wager on sports at the best online sportsbook – Borgata Online
For all the latest odds and betting lines for all your favorite sports and events, global and local, register at online sportsbook, Borgata Online. No matter what your gambling tastes may be, you'll find we have one of the best sports betting apps to keep you on top of the online betting action with all the latest odds at your fingertips, along with sports news, updates and more.