Everybody knows that the Olympics is one of the world's most long-running and respected events, where athletes from across the globe gather to showcase their hard work and talent. They've been around since the first-ever modern games in 1896, which was held in Athens. This international stage in sports allows countries to boast about their superior athletes and sports programs.
The sheer variety of sports on display – such as swimming, gymnastics and basketball – is a dream come true for online sports betting punters. With more than 200 nations, thousands of athletes and countless betting opportunities, punters get to have a field day every four years (although the Summer Games and Winter Games are usually staggered by two years,) with top-level athleticism on display in spectacular fashion.
The Tokyo Olympic Games (officially timetabled for 2020, but postponed until 2021 due to the pandemic) saw the addition of skateboarding, karate, surfing and sport climbing. This means there are 33 different types of sports events to watch. In addition to table tennis betting and other online betting opportunities such as basketball betting, sports fans can also check the odds on these additional sports during the Olympics.
There have been several sporting codes introduced through the years – some have been hands-down brilliant, some not so good and others were deadly. One thing's for sure, strange Olympic sports have been a common feature throughout the Games' history.
Let's go back in time and look at some of the weirdest Olympic events.
1. Live pigeon shooting
At the 1900 Summer Olympics in Paris, many shooting events were part of the Games, including live pigeon shooting. The objective of this event was to shoot and kill as many pigeons as possible. Gruesome, right? The official report of the Games described this event as "très aristocratique" (very aristocratic.) Leon de Lunden of Belgium took the gold medal in this "sport," reportedly killing 21 of the poor birds. Luckily, the 1900 Paris Summer Olympics was the first and last time that this event took place.
2. Tug-of-war
Tug-of war has been around since the Ancient Olympics in 500BC. The tug-of-war event was once again introduced at the 1900 Paris Summer Olympics, but was discontinued in 1920. The objective of the game was simple: Two teams from different countries had to pull their opponents 6ft in order to win, or pull the rope the furthest within a five-minute period. Great Britain enjoyed tremendous success in this event, scooping two gold medals and one silver. Tug-of-war was always contested as being a part of the track and field program; however, it is now considered a separate sport. Some of the best athletes in this event were Frederick Humphreys, Edwin Mills and John James Shepherd.
3. One-handed weightlifting
The one-hand lift was part of the Games' program in 1896, 1904 and 1906. Only men were allowed to participate in this event. Athletes had to perform lifts with one hand at a time, and the winner was determined from the combined score of both hands. Lifters were given three attempts, and after each participant lifted three times, the top three athletes would be allowed to make three more attempts. It sure was a thrilling sport to witness as participants vied to display their lop-sided strength.
4. Poodle clipping
This is definitely one of the most bizarre events to be held at an event intended to showcase athleticism. Once again, it was at the Paris Games in 1900 that poodle clipping took place. It was only a trial event but, even so, it's still wild to believe that poodle clipping made the cut – if you'll excuse the pun. The event included 128 people competing in a Parisian park, with a crowd of 6,000 spectators in attendance to see who could clip the fur of the most poodles within two hours! Poodle clipping would have been a hit with online betting. Unfortunately for poodle-clipping enthusiasts, though, the event was discontinued.
5. Horse long and high jump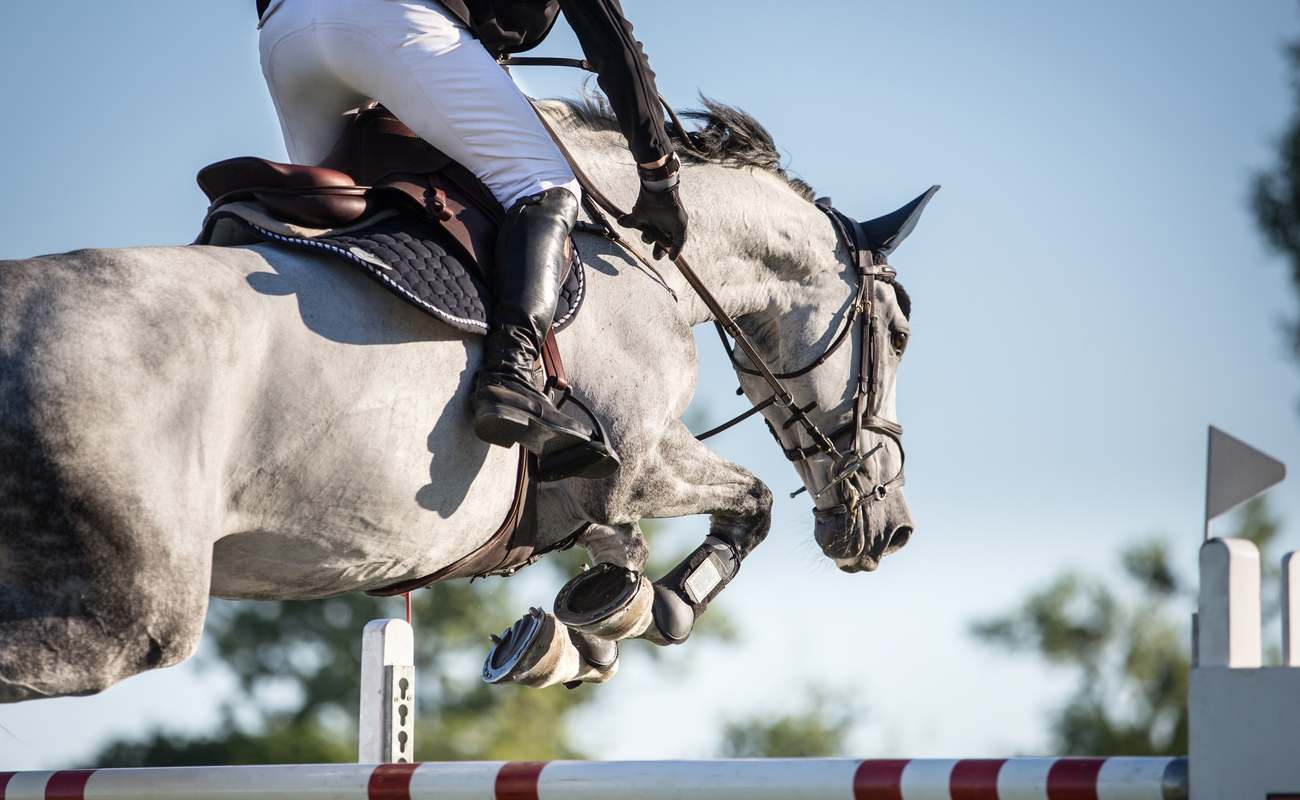 During the 1900 Olympics in Paris (that one again,) horse long jump, as well as high jump, was part of the equestrian competitions. The event had 17 participants, with Belgium's Constant van Langendonck making the winning leap. The top three prizes were awarded to players who completed the course without any faults and classified according to their times. Unfortunately, the equestrian long and high jump was not viewed as a successful event.
6. Solo synchronized swimming
When you think of synchronized swimming, more than one participant comes to mind, right? However, staying in sync with oneself and the music was what took place at the 1984 Los Angeles Games. It did not gain any traction and only reappeared at the Seoul (1988) and Barcelona (1992) Games before it was removed from the program. Synchronized swimming then became a team event – only permitted for women at the Games – and has since become a hit.
7. Jeu de paume
Jeu de paume translates to "game of the palm," and it was once played as an official sport at Olympic level. It's also called "real tennis" or "court tennis." The tennis that we know and love today is derived from this older version of the game. Players would face each other over a velvet rope and strike the ball with their bare hands. The event only occurred at the 1908 London Games mainly due to the fact that the large, indoor courts do not exist in many locations. Modern-day tennis betting is one of the most popular sports betting markets these days, although it would be interesting to see what kind of prop bets jeu de paume would have had.
8. La Canne
La Canne, which translates as "cane fighting," was held as a demonstration at the 1924 Olympics in Paris. The event included a bout between two competitors brandishing canes, which was similar to fencing. This strange Olympic sport was associated with French kickboxing (also called "savate.") Professor MM Prevot and the French champion Beauduin took part in the cane fighting demonstration at the 1924 Games.
Place bets on today's real sports at one of the best online sportsbooks
At Borgata Online, we provide an exceptional sports betting market, including golf betting, football betting, MLB betting and so much more. Sign up for a wide variety of sports action. If you're new to betting, you can learn how to bet on sports as well as gain access to one of the best sports betting apps on the market.